Cate Tells a Story in Words and Pictures
First of all: Snaps for Paul Hamm!!!
My cousin Spiderman, my aunt Denda, and my grandma Albatross came up to stay with us for a few days this week. It was very fun. Spiderman is a cute little boy: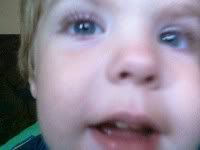 He loves Spongebob: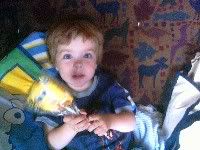 He also loves
School of Rock
and has a "guitar face":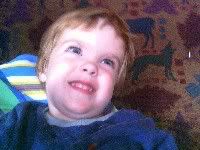 Grandma Albatross, who is sixty years old
: You're not old until you're a hundred.
Cate
: Yep. You're just a spring chicken until then.
Albatross
: Spring chicken. I like that. And then when you turn a hundred, you're just an old duck.
Denda
: No! You're an albatross! (Mad cackling from Denda and Cate.)
Last night, I slept on the living room floor and chose not to kennel our dog, Big Rita, so she jumped on me and ran across my torso when she decided it was time to wake up. But she really is a very sweet dog: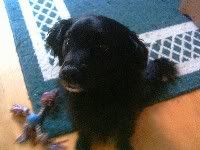 (Imagine what I would do without my cheap digital camera. More 'Love is Nothing' up on
the fiction blog
and I now have a pop culture Greatest Journal with a bazillion free userpics, entertainment news recaps, and reviews:
I'm just taking over the internet one blog at a time
.)